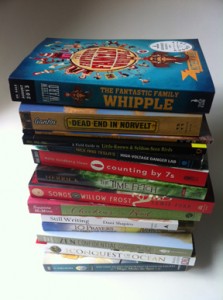 Above is about half the swag I picked up at BEA 2013–and I was actively trying not to get stuff as I didn't want to carry it all day! These were the things I couldn't resist…
BEA  2013 was interesting and intense and I was happy to be able to meet some great people and see some fantastic book projects. This conference is a must for visual artists who are considering a career illustrating–kids books, medical illustration, photography, book design, graphic design. And if you are not an editor, buyer, agent or published author with an ISBN number to prove it, you can go on Saturday now when the BEA folks open up the floor to everyone–Power Readers. I attended the conference Wednesday, Thursday and Friday. On Friday I took my pedometer (always curious, possibly geeky), stopping it when I stopped to eat or meet with anyone at length, and by the end of the day, it read 13.45 miles–including the walk from the A train and back. Just in case you attendees were wondering why your feet hurt the next day.
Usually I just attend two days but decided to go on Wednesday as well this year, when the exhibit floor is closed, and listen to the various talks. The following are highlights from those talks, mostly about self promotion, hopefully not too boring. I found the talks edifying, discouraging and energizing all at once somehow. This is two sessions worth of notes–stay tuned for a couple more posts like this!
BEA Notes
Talk #1
Trends in Children's Books
-First I made a real effort to attend the 9:00AM Bowker talk about Trends in Children's Books. I thought it would be pictures of what has been selling, but it was actually a statistical analysis of what sells and what doesn't. It was not terribly interesting, frankly, but there were a couple of interesting takeaways:
-Picture books sell to moms, primarily, and moms get their ideas of what to buy from 1. What appeals to them personally, then 2. friends and family, and 3. Librarians, and then 4. What their kids are interested in. A distant influence was blogs and other internet sources, but it was distant.
– Girls still read more than boys, but this gap is closing.
-Teenagers do not read on Kindles and other devices. Middle grade kids are more likely to read on these devices.
-Teenagers had a huge, unexplained drop this year in books they read outside of school for fun.
and finally
-apps and other electronic devices are not taking over the industry in kids books, not even close. Print books rule in this realm.
Talk #2
Hosting a Virtual Book Tour with Google+
with Lynette Young (@LynetteRadio and LynetteYoung.com)
Of the popular social media sites, facebook is #1 with 750,000,000 participants. In this session, Lynette Young suggested that Google Plus is number 2 with 500,000,000. (Anna asked me to look this up on line to see what the top ten social media sites are. I looked at a few sources, and while there were variations, this seems to be the consensus:
facebook 750,000,000
Twitter 250,000,000
LinkedIn 110,000,000
Pinterest 85,000,000
MySpace 70,500,000
Google Plus 65,000,000
DeviantArt 25,000,000
LiveJournal 20,500,000
Tagged 19,500,000
Orkut 17,500,000
I think the reason Lynette Young counted Google Plus as #2 with 500,000,000 followers is that they pulled in their YouTube viewers, as well they should, as YouTube IS Google.)
Lynette Young (is a book marketing guru who wrote the book Google+for Small Businesses who might be on the Google payroll) said that the hottest place for Search Engine Optimization right now (meaning the place where Google crawlers look for keywords) is video anything. Google+ has two new features that are video related, Hangouts and Hangouts on Air.
Hangouts
Google+ has a new Hangout feature. Hangouts are Skype-like where you can gather together a group of friends and have a chat about something. For example, if a group of us wanted to hang out virtually, we would all go on line at a specific time and talk with each other as a group, lift a glass to each other, show each other what we are working on. We could have a meeting once a month. This meeting is ephemeral, in that it is there for us while we are meeting, but after our meeting, it is gone forever.
Hangouts On Air (HOA)
The Hangout On Air (HOA), on the other hand, is broadcast to the public and published to YouTube. We might not want to have our meeting published to YouTube, but if my illustrator friend Dana wanted to have a virtual book signing with the puppet of Ozzie and a group of kids at a school, say, he could have someone video record, or set up a laptop pointing at him and Ozzie, and collect all the interactions (remembering, of course, to get all the parents to sign a waver that their kid's image can be filmed and appear on line) That, then, would be published to YouTube with all its potentially gritty reality intact. And Dana would tag the HOA (somehow–I have not done it, but when I do, will let you know) with lots of keywords that would take people to his website, to buy his book, etc.
I believe it cannot be UNposted to YouTube, but there is an editing feature. So, for example, if your spouse wandered in while you were doing a HOA, you could edit out that few seconds in a not-terribly-artful way.
The Reason We Might Care
Google+ has tons of book tour hosts, writers groups, book clubs, and other hyper-focused groups by the gazillions. These people are constantly looking for content. In other words, they want you. To find a bookclub that has an HOA, you would search "bookclub#HOA". You can interview a friend, and have them interview you and this can be posted to YouTube (w links to buy your book, to your website, blog). You can set up a laptop in your kitchen and let us all watch you make a banana caramel tart that is posted to YouTube (w links to your cookbook, website, free recipe download).
She suggested that a group for writers can host book tours for each other. So, for example, the writer's group I belong to could host book tours for each other. Fun!
Ideas to promote Your Book in Google+
Seek out book clubs
Interview other authors
Hold a Fan Q&A
Create or Join a Google Community
Look for book reviewers in your genre
Run a live Google+ event
Create a Writers Group
Do Virtual book signings
Start a discussion group around your book topic
Host your own book tour