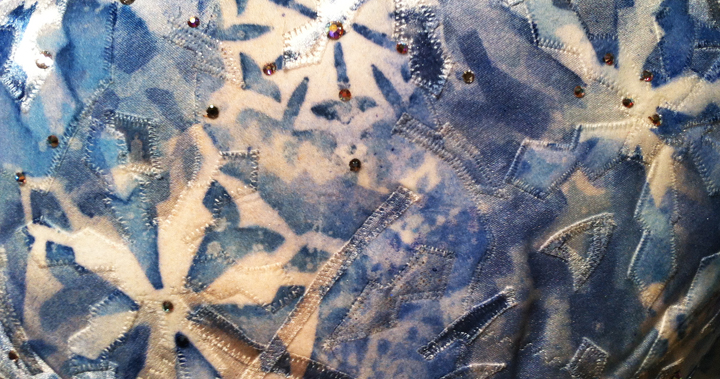 In celebration of my new book, Stencil Craft: Techniques for Art, Fashion and Home (Look Inside! http://amzn.to/1K5rhJV), I am excited to share with you some ideas about the multiple uses for stencils: Beyond numbers on your mailbox! This beautiful sample above, for a snow-encrusted costume, already started out with some fantastic detail–satin applique on velvet, done by the amazing draper Patricia Murphy at Parsons-Meares, LTD. But to get that frosty, come and go, tumbling snow quality, I cut multiple stencils of snowflakes, and painted them with clear and slatey blues. It doesn't hurt that Pat augmented the sample, post-painting, with stones to get that iridescent flash that's really on snow!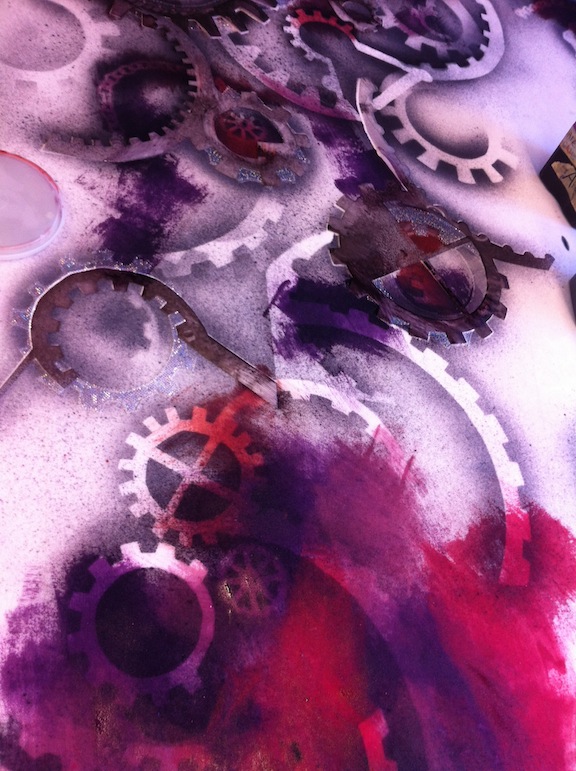 Another example of layering, a work in process, this time gears make a moody, layered, steam-punk surface. When you are working with layering stencils like this wet-into-wet, you must remember to wear gloves!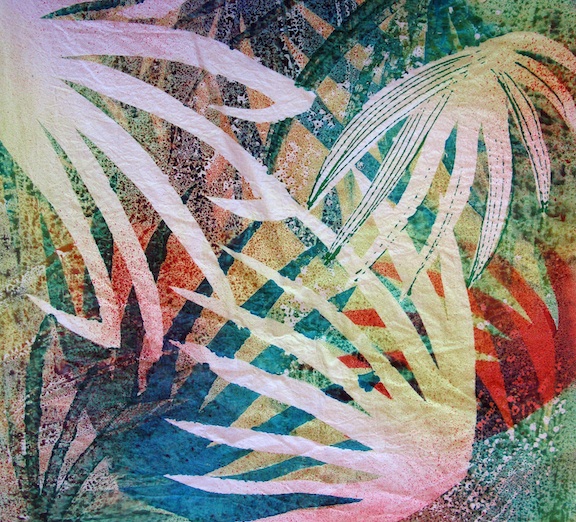 Layering can also add interest to fabric that is otherwise intensely boring. These fronds were painted on a very lightweight woven fabric that was to be used to make pants for a stiltwalker for a circus. The fabric couldn't be heavy, and the lightweight fabric choices were plain, plain or plain. The layering here (with some added line work and wax) adds richness and life to a fabric picked strictly for utility.
And finally, this fantastic tromp l'oeil marble sample, created by the incomparable Claudia Dzundza, is created with a complicated layering of stencils: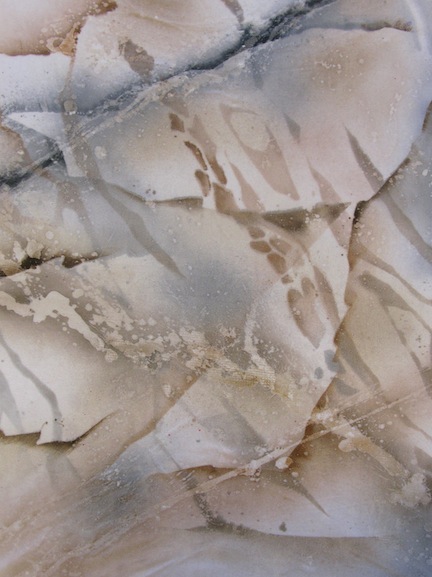 In the Gallery in Stencil Craft: Techniques for Art, Fashion and Home (Available for preorder–http://amzn.to/1K5rhJV), there are other examples of stencil-layering on fabric to make deep jungle effects, an underwater coral reef, additional ferns and more.