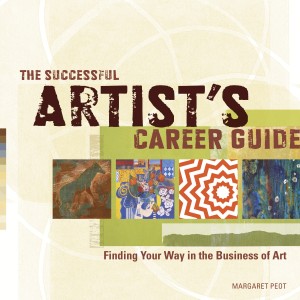 Margaretpeot.com is offering a summer giveaway of The Successful Artist's Career Guide: Finding Your Way in the Business of Art (enter by midnight, Tuesday July 16, details at the end of this post). This book is filled with interviews with artists who tell of their varied and surprising paths to their own successful careers as artists. There's an artist blacksmith, illustrators, a graphic novelist, a moku hanga printmaker, painters, a muralist, a graphic designer, a costume painter, and more. There is advice about plotting your course towards an art career, including worksheets that help you figure out where you want to live and what you want to do with your art skills. To give you a feel for the book, which is beautifully designed by Clare Finney (another successful artist), let's flip through: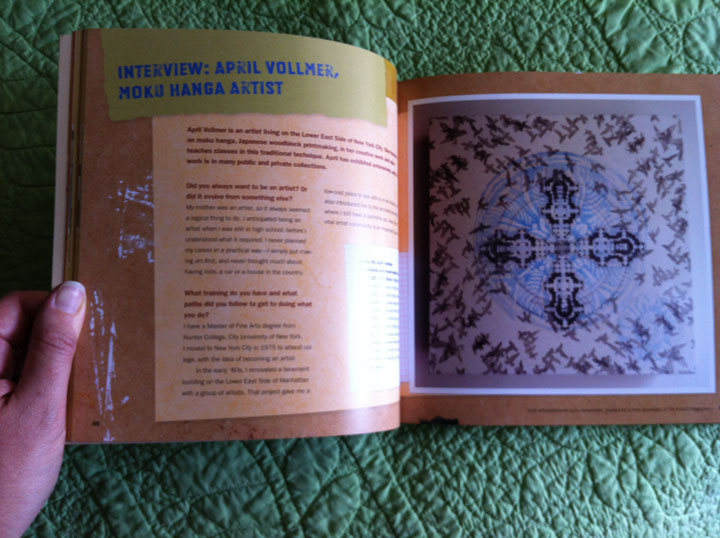 This is the beginning of the interview with April Vollmer, the Moku Hanga artist, and one of two her lovely pieces.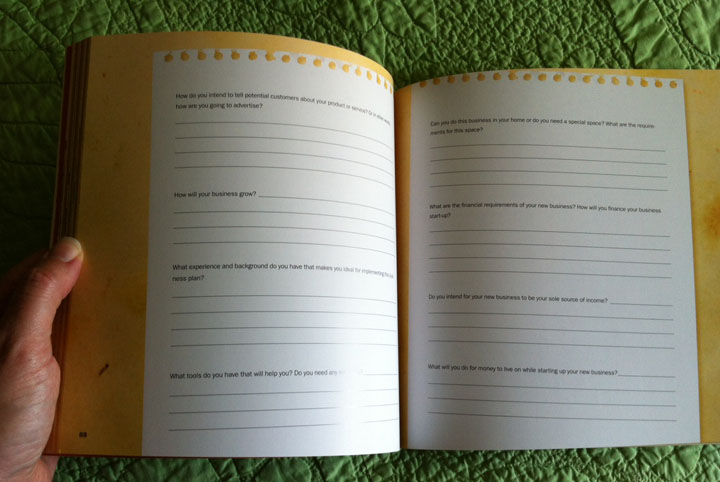 This is one of the many worksheet pages–there's Writing a Business Plan, What Do You Care About?, Are You An Art Business?, Who Are You and What Do You Like to Do?, and more self-reflective Q and As.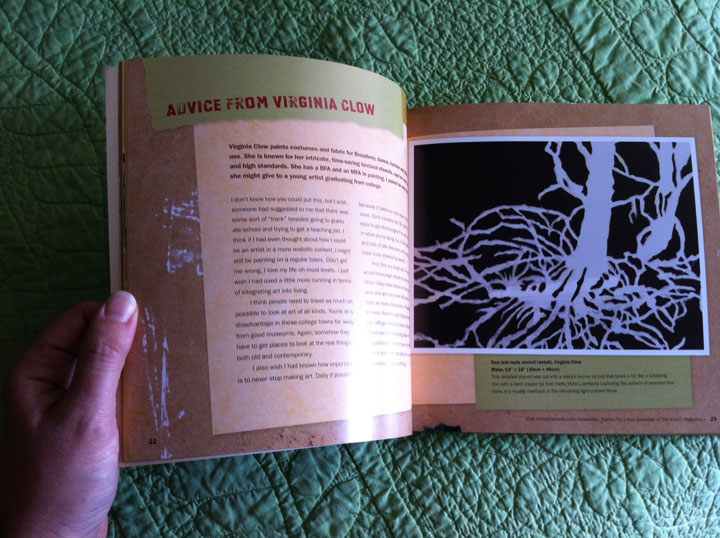 This is a page with advice from costume painter Virginia Clow, with a few examples of her fantastically detailed and time-saving stencils.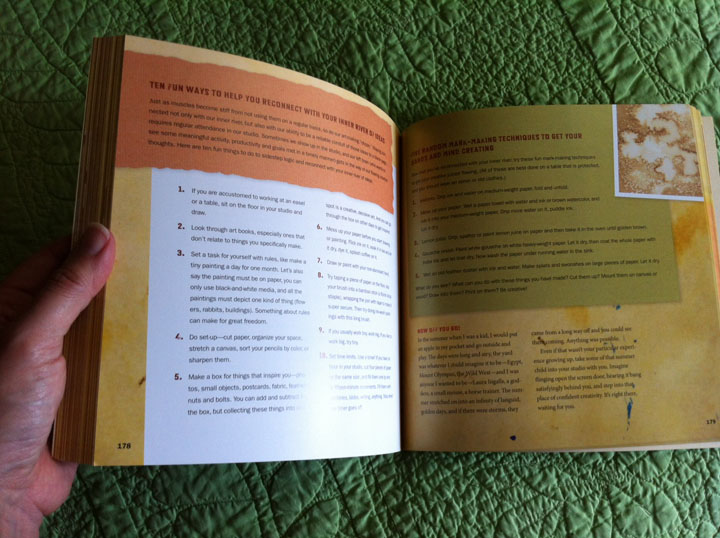 A page with fun ways to keep the conduit to your infinite river-of-ideas flowing–the book isn't JUST about business! It's about finding out about yourself, and then making a sensible, business plan on which to build your life as an artist.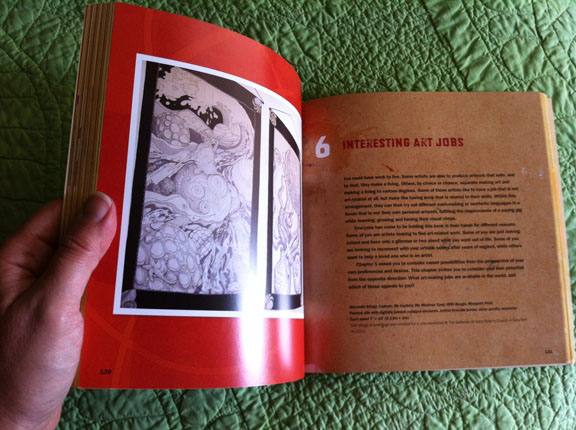 Interesting Art Jobs: I tried to list as many as I could think of and then researched to find more. There are so many ways to make a living as an artist! Maybe there are some ways you had not thought of!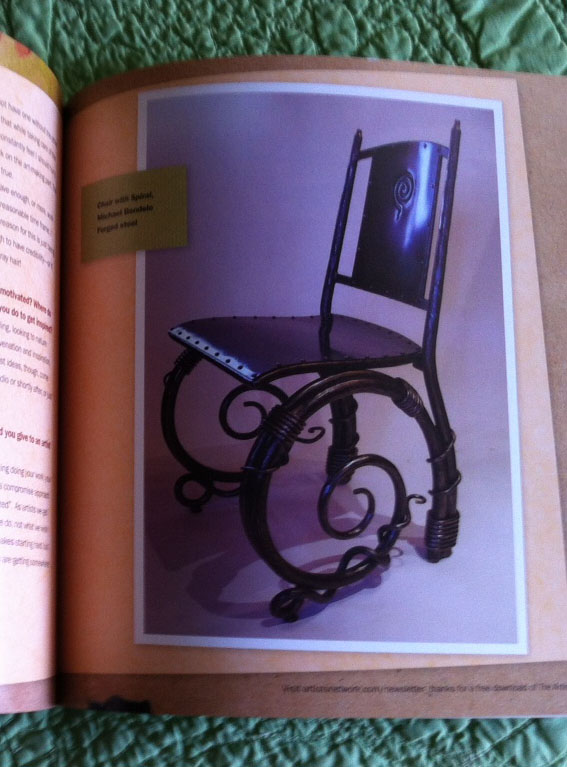 An inspiring interview with artist-blacksmith Michael Bendele appears in the book–isn't this an amazing chair? All made of iron and heat. Michael works all the time, doing ironwork and copper repousse.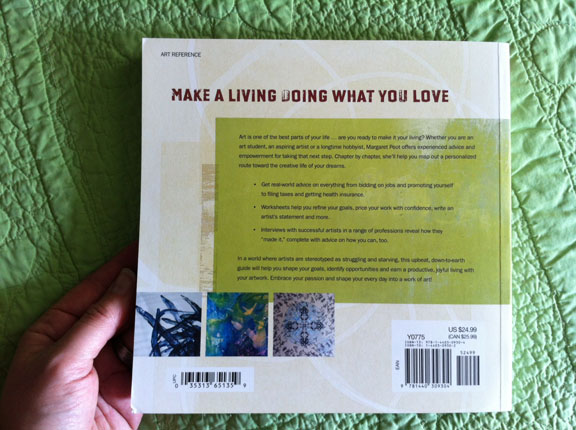 The back cover–those eely things are just that–eels–a bigger picture is inside the book in the interview with artist Annie Sessler who is a successful gyotaku artist (makes prints of fish) with her business East End Fish Prints.
What are your plans? Tell me here in the comments a step you are taking to get your art career going, and I will enter you in a drawing to win a copy of The Successful Artist's Career Guide. I will pick two winners. ENTER BY MIDNIGHT ON TUESDAY JULY 16TH. I WILL DO THE DRAWING AND POST THE TWO WINNERS ON JULY 17TH. Good luck!