Last week, I had the pleasure of flying to beautiful Utah, to Salt Lake City. It was gorgeous there–the natives told me that if I was only there for the spring, I would really see something special–this was considered the less beautiful season (looked pretty amazing to me!):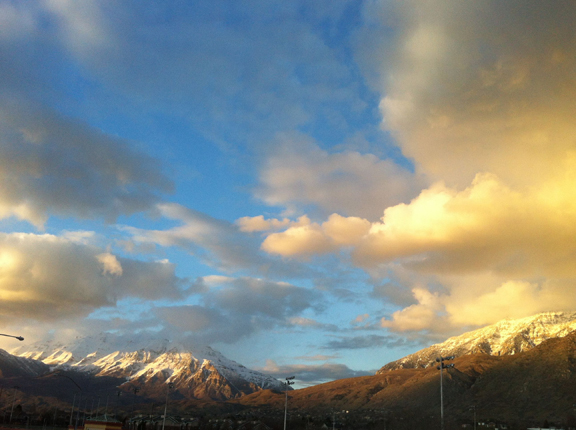 I was in Utah to teach costume painting at Brigham Young University, and also talk to the design students there about art careers, and their careers in the theater. BYU hosted me, flew me there. The wonderful Mary Farahnakian, the costume design head at BYU, was a wonderful host, and the students were great. But, more about that later–I am going to describe the trip chronologically.
Ken Crossley, of EngAGE Utah, an organization that facilitates arts-in-healthcare opportunities for seniors, invited me to come first to Salt Lake City to the Huntsman Cancer Institute to do an inkblot workshop with cancer survivors there with the Artist in Residence, Jorge Rojas. Jorge and his students are doing amazing work at Huntsman–the real deal–not macaroni glued to boards, but really grappling with art making and all of its joys and trials and wonderful puzzles. This video that the Communication Department at Huntsman put together about the art program will give you a better sense of what they're doing–really neat— https://www.youtube.com/watch?v=Q4dazFg-Mco
Out of respect for the privacy of the students, I won't show you pictures of them, but I can show you pictures of some of their inkblots, as well as pictures of me–take note of the fabulous view behind me. My plane got there an HOUR late for an hour and a half long workshop, but the participants stayed extra, and also started making inkblots without me with Jorge's guidance, and some of my inkblot youtube videos, too. I always try to show different kinds of inkblots, too–round ones to make planets, mandalas, masks, landscapes, butterflies and bugs–so participating artists can see that the form is rather flexible and not totally random.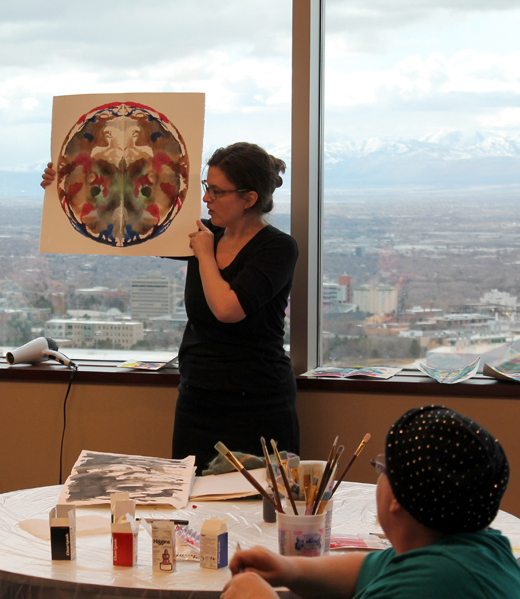 After we made a few more inkblots, we played the looking game, first together, and then in individual groups–like–look at three inkblots and tell us all, "These are pets at a pet store. Tell me which of these would be a good companion pet for your difficult persian cat. Why?" or, "These three inkblots are circus performers auditioning for your small circus. You can hire one act–pick one from these three. What is the act? Why did you pick them?"
Then, we drew and colored into what we saw in our own inkblots which were now dry enough to color into.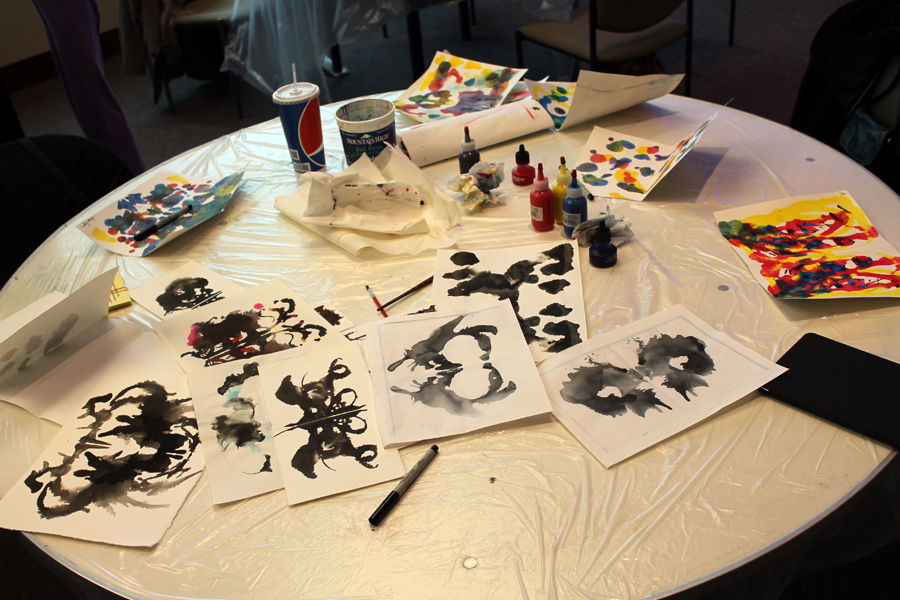 It was very fun. One of the students looked into an inkblot she made and said, "I see a path into this inkblot, and in the middle of it is a hope." Amen to that!
The Huntsman Cancer Institute is amazing–beautiful, heart-lifting space, lovely views of the mountains, spectacular marble and wood, thought-provoking art hung all through the facility. Thank you again to Ken Crossley and EngAGE Utah for making this workshop at Huntsman possible.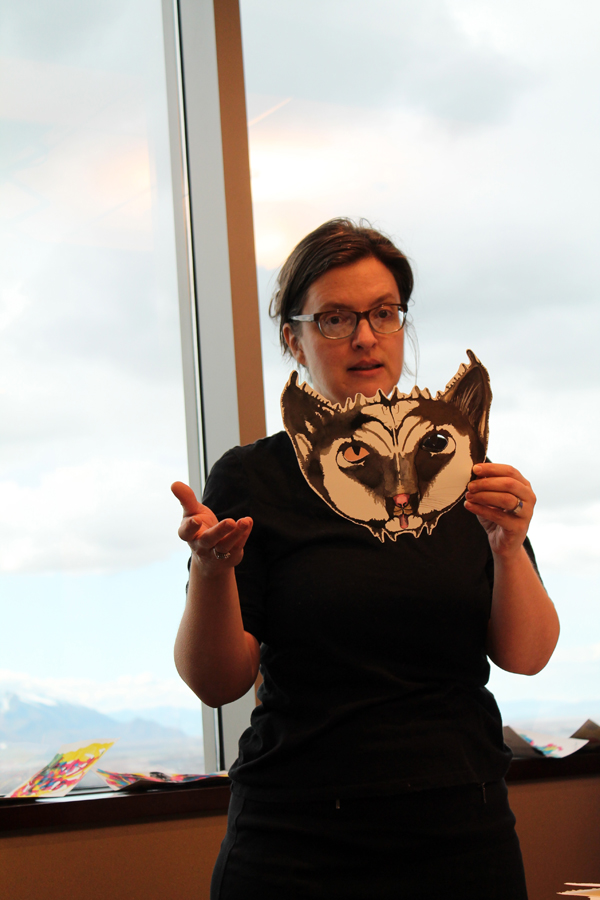 Stay tuned for Provo Rehab…