My friend, the writer-illustrator Dana Sullivan (see his writing process blog tour post here: http://danastickylove.blogspot.com/) tagged me and another pal, writer-illustrator Kate Sullivan (her work here: http://onlindensquare.com/index.html) to be a part of a writer's process blog tour. Dana has a wonderful sense of humor that is so perfectly wed with his writing and drawing. He is quite prolific, working on the Digger and Daisy series, Ozzie and the Art Contest, and his newest book, due out in August is Kay Kay's Alphabet Safari which celebrates the Star of Hope Centre, a school and orphanage in Kenya. Kate Sullivan wrote and illustrated the wonderful book On Linden Square, which is somehow full of music, from its crazy-lyrical drawing style to the way the book is laid out. And the tales of all the quirky city dwellers makes me glad I am living with my family in the city of New York, which has enough quirks for everyone and more.
 The way this writer's process blog tour works (as I understand it), is that I will answer these four Qs about my work and my writing process, and then tag more two writer chums to do the same next week.
Question 1) What am I currently working on?
I am working on Stencil Craft for F&W Media, and am going out to Cincinnati soon so they can have their photographer take pictures of different projects so they can be shown "stepped out" in this how-to book. Some of the projects are taken down finished, and I am working on those, as well as gathering materials to ship out to them. In my research for the book, I think the people doing the most exciting stencils are graffiti artists–really dynamic, cutting edge stuff. I am not sure how I feel about graffiti in a neighborhood. Even if it is really cool looking, when it is everywhere, it kind of indicates to all that the neighborhood isn't well patrolled and maybe other stuff could happen there, too. BUT, the stencils are really great–well thought out. And as a printmaker, I really appreciate a repeated image. The most fun thing I discovered this week is that I can trace around all the shadows of a photograph, and make a
 stencil portrait with one color. I used a photograph of a well known person here (Einstein (from a public domain photograph…):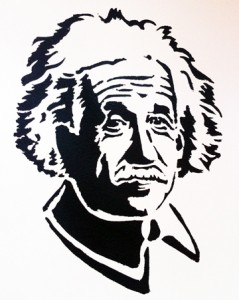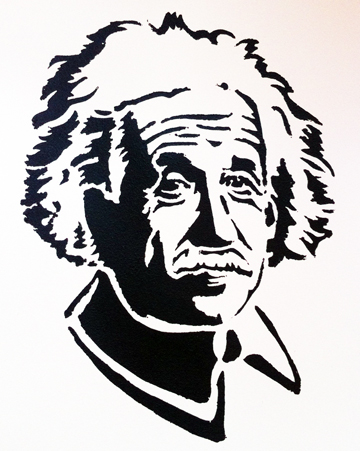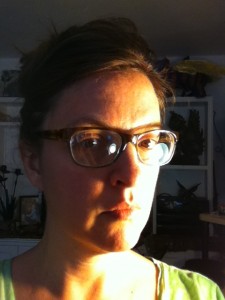 (and Not Einstein…but see how tracing the darkest shadows (including glasses, and the edge of my shoulder where it meets the darkness behind) could define my face?)
and am also going to some of myself and my family. Take a picture of yourself with a bright light source at your head and trace around just the darkest shadows. Cut a stencil and print it and see what you get. More projects like this will be in the stencil book.
 Crow Made a Friend is a picture book I am working on this summer for Holiday House. It is a book for very young readers, with extremely simple text. The book almost works as a wordless book, which is good for this age group as they can see completely what the story is, so that the reading part is more self evident. We have almost resolved the text and the sketches and I am getting ready to do a piece of real art so that the book designer there can make sure we are all on the same page.
I am doodling around on a couple other projects, one that has to be almost fully realized for a workshop I am attending in the fall–whoo hoo! But no pressure there…
Question 2) How does my work differ from others of its genre?
I am not sure that it does differ so much in essence. I think the best books of any stripe, from how-to books for grown ups, to novels, to illustrated picture books for children work best when they are an authentic, enthusiastic, and TRUE expression of something personal. The how-to books work best for me when I am excited about what I am working on; when I have figured something out that I want to go play around with myself in my studio. The picture books work best for me when I care about the characters–when something about their plight and its resolution touches my heart. So when books of other kinds touch my heart because they have represented something TRUE, I think they are successful books–no matter what the genre. And sometimes the very best books are not a reinvention of the wheel, but a fantastic and satisfying telling of an ancient archetype.
Question 3) Why do I write what I write?
The art books for adults I write because I think human beings were set up to make things, and that we are happier when we do. Make Your Mark,  Inkblot: Drip, Splat and Squish Your Way to Creativity, and Alternative Art Journals were all written with this idea firmly in place. All of them are filled with things to do that would satisfy the most accomplished artist, but also sidestep any protest from a beginner that they "can't even draw a straight line," and surely could not venture into any artistic endeavor. Lots of techniques for making marks–inkblots, nature prints, rubbings, and lots of ways to collect and codify these things–cabinets of curiosity, fake family albums, charm journals, inkblot sketchbooks, etcetera, are included so that hopefully the reader not only makes some marks, but then also has some ways to DO SOMETHING with them. The Successful Artist Career Guide: Finding Your Way in the Business of Art is a book of useful advice not only from me but also from sixteen other artists who are making their livings as artists, my financial advisor, and a person who does social training in corporations for backwards types. The book is for young artists, for people starting an art career later in life, and for those who got an art degree but quit art making to get a "real job" with benefits and more reliable pay. I want to make useful books.
And as regards the children's picture books, I have always liked art and words together, anywhere. Children's picture books have some of the best art and ideas going, by far. Children's picture book editors are making gorgeous objects, pared down and essential. I have been reading and collecting picture books long before my son was born, and fall in love with different ones over and over. So–true love is the reason here.
Question 4) How does my individual writing/illustrating process work?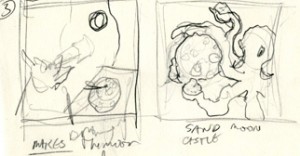 I really like reading about "clustering" in Dana's blog post (
http://danastickylove.blogspot.com/
). That makes some great logical sense to me. I make tiny doodles on the subway–extremely scribbly things, unrecognizable to anyone but me. Then I take them home, scan them, print them out and start putting them in an order, jotting things down on and around the pictures as I go. This is so for kids books as well as adult books–I start with tiny scribbling and hasty notes. If I ever moved away from the city, I am not sure how I would replace this super-creative time. It is a completely free time, as I am not in control of how fast or slow the train goes, and no one can reach me there, so my mind is wholly free to roam. When I am home in my studio with my cup of coffee, my perfect pens and pencils, my unmoving work surface, I sometimes start wondering what is for lunch instead of getting lost in the little ideas as they bubble up.
Who's next on the tour?
I am pleased and proud to introduce you to the work of Kris Waldherr. She makes wonderful illustrated books, gorgeous tarot cards, including 
The Goddess Tarot
. Her many publications include 
Doomed Queens, The Book of Goddesses
, and 
The Lover's Path
. Her upcoming novel is 
The Lily Maid
, "a novel set in the art world of late Victorian England." She is really a Renaissance Person. Her interesting post about creativity and her process is here:  
http://kriswaldherrbooks.com/main/2014/06/creativity-friday-writing-process-blog-tour/
And I am also excited to introduce you to the work of Rachel Pollock, a writer, fabric painter and dyer, craftsperson and costumer. She has written fiction and non fiction, poetry and essay, from her book 
Sticks in Petticoats: Parasol Manufacture for the Modern Costumer
 to many inclusions in poetry and fiction journals, and is looking for representation for a novel, 
The Decadence Papers
. You can read more about Rachel and her work here: 
http://www.rachelpollock.net/
 Rachel's writing process blog post will be out next week.
Thanks again, Dana, for tagging me.