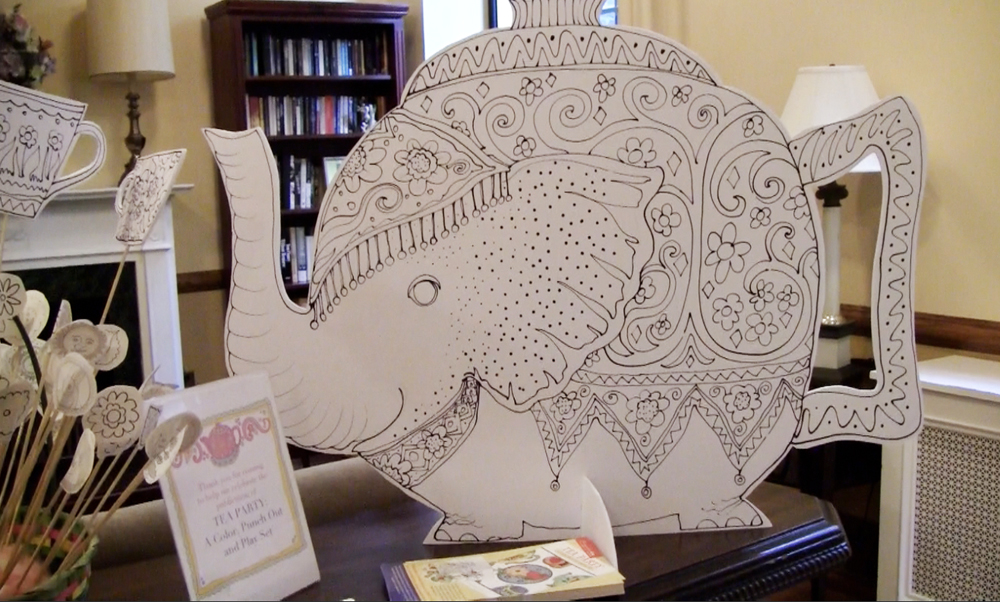 A Tea Party for Eighty
Thank you to everyone who came out to celebrate the publication of Tea Party: A Color, Punch Out and Play Set this past weekend! And special thanks to Sue and Beverly who baked, made tea and lemonade, and provided moral support. Thank you to Daniel, who provided music for the event and filmed tea drinkers and crafters alike. My designer friend George provided two gorgeous silk flower arrangements and floral tablecloths to go with. Many thanks to Sam who was my able retailer, to Grace who was the Tea Blending Queen, and Sophie, Jack, Lena and Sam, who cleaned up and put away so handily.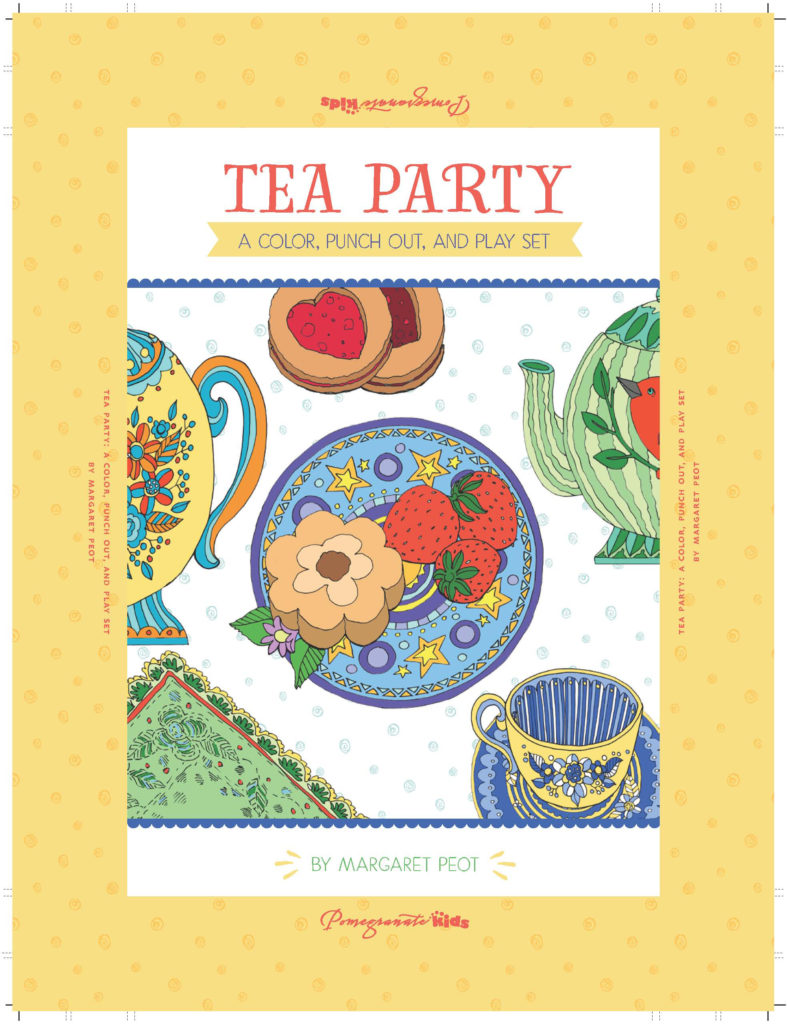 Tea and Tea Treats:

I made scones from my recipe (in the Tea Party set!), and changed the add-ins for variety: chocolate chips, dried mango and crystallized ginger, cranberry and nutmeg. I made 140 scones and thought I had overachieved, but every single one was eaten. Beverly made cream scones and strawberry butter to go with. Delicious! The strawberry butter was actually just the ticket, but I wanted to also have Devonshire Cream (Clotted Cream), because I have always heard that is the thing to have with a fancy afternoon tea. You can buy the real thing on line—it comes in a jar, but you can make "mock" Devonshire cream (what I did): Whip an 8 oz. container of heavy whipping cream til stiff, add a small container of sour cream, plus a teaspoon of confectioners sugar.
Sue made scrumptious crustless tea sandwiches: cucumber and cream cheese, curried chicken salad, and peanut butter and apple. They were pretty as well as being delicious!
Decorations: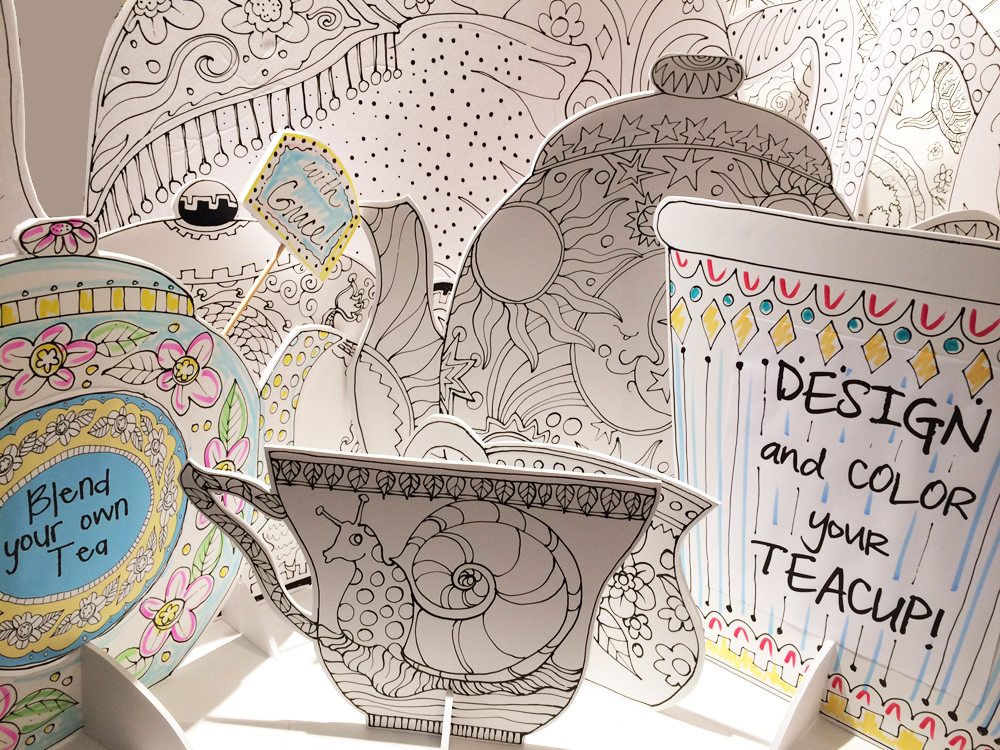 I had to figure out how to transform the large, formal community party space at Hudson View Gardens into a place that said, "Come in! Have some tea and some fun! Let's make stuff!" This had to be done for maximum inpact with minimum funds. So, with an X-acto knife, a squeeze bottle of black acrylic paint and seven large sheets of foam core, I made lightweight decorations for the party. Since Tea Party: A Color, Punch Out and Play Set is all about coloring and setting up teapots and cups on stands for tea party pretend fun, I thought teapots and cups on stands would be appropriate decorations. My friend Xiachen designed and painted a foam core teapot for me—a whimsical drawing of a baby holding a huge carp. Thanks Xiachen!
Activities:
As well as providing food, we wanted to have enough activities that people could design and color happily for two hours, and be able to take fun things away with them. We had a Design and Color Your Own Teapot area, a Blend Your Own Tea with Gracie space, a table where party goers could Design and Color a Tea Cup as well as a tea-themed Tabletop Mural that participants could collaborate on.
Stay tuned for more posts about the party, and I will share with you all the arts and crafts activities we did.
ABOUT:
Tea Party: A Color, Punch Out and Play Set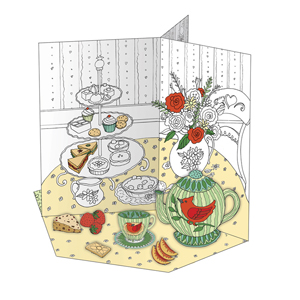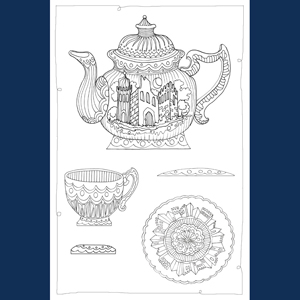 Tea Party: A Color, Punch Out and Play Set by Margaret Peot for Pomegranate Kids is a complete tea party activity in a box that would provide hours of coloring and pretending fun for a group. It is a boxed set of colorable teapots, cups with stands, saucers, tea treats and folding play "stage sets" to arrange your tea in. In each box are eight die-cut card stock pages of tea pots, tea cups and tea treats. There are four styles of teapots, cups and saucers to choose from: Woodland (with birds and leaves), Flower Garden (with a variety of posies), Grand Duchy (with crumbling castles and royal crests), and Mystical (with sun, moon and stars). There are paper spoons and napkins to match each style. There are also tea treats to color (fairy cakes, scones and Battenburg cakes), a serving plate, creamer and sugar bowl. Three pop-up scenes include Tea with Furry Friends, Tea at a terrace overlooking a Downton Abbey-like Manor House, and Afternoon Tea.
To buy a copy of TEA PARTY: A COLOR, PUNCH OUT AND PLAY SET from Pomegranate Publishing, click here. To buy a copy from Barnes and Noble, click here.