Tea parties are very fashionable these days! Birthday parties for kids work great of course, but also tea party baby and bridal showers. You only have to look at all the Pinterest boards about tea parties to get lots of ideas for tea, treats and decorations. The very best tea party for any age or occasion will include tea and tea treats, and enough fun activities to keep people occupied for a cozy couple of hours.
Activities: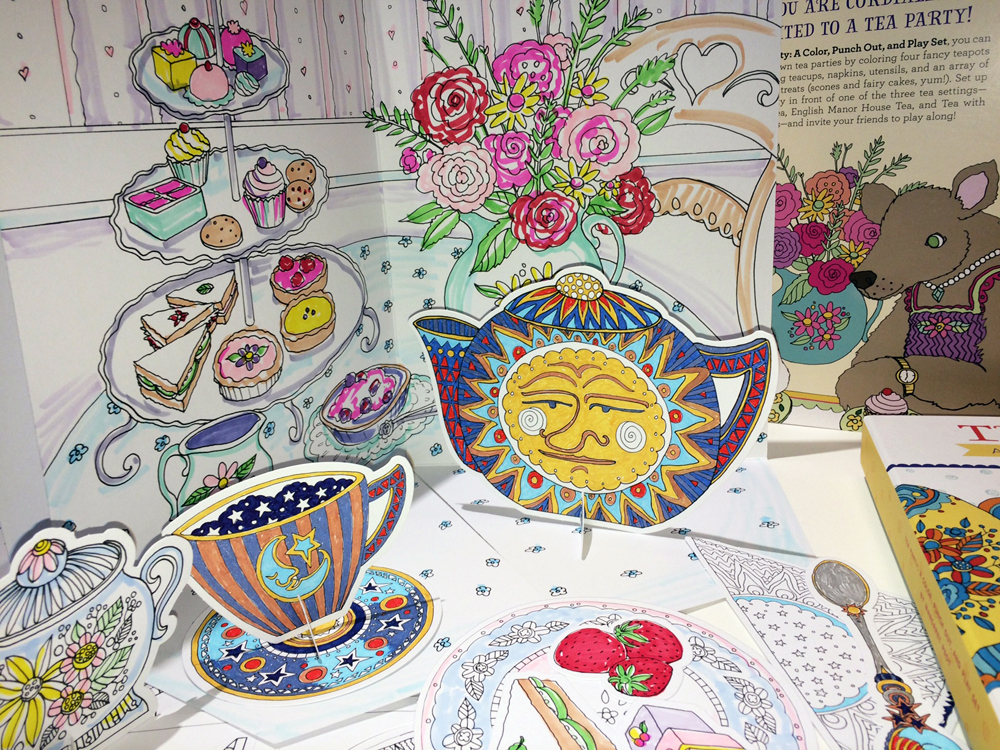 You can use TEA PARTY: A COLOR, PUNCH OUT AND PLAY SET as the centerpiece and activity focus for your guests. Coloring and talking is fun and easy to do while sipping and snacking. In the box are eight die-cut card stock pages of tea pots,tea cups and tea treats. There are four styles of teapots, cups and saucers to choose from: Woodland (with birds and leaves), Flower Garden (with a variety of posies), Grand Duchy (with crumbling castles and royal crests), and Mystical (with sun, moon and stars). There are paper spoons and napkins to match each style. There are also tea treats to color (fairy cakes, scones and Battenburg cakes), a serving plate, creamer and sugar bowl. Three pop-up scenes include Tea with Furry Friends, Tea at a terrace overlooking a Downton Abbey-like Manor House, and Afternoon Tea. There is plenty to keep a small group occupied coloring. If you feel that each of the participants would want to be sure to color a tea pot of their own, and perhaps take it with them when they leave, you might consider getting more than one Tea Party sets.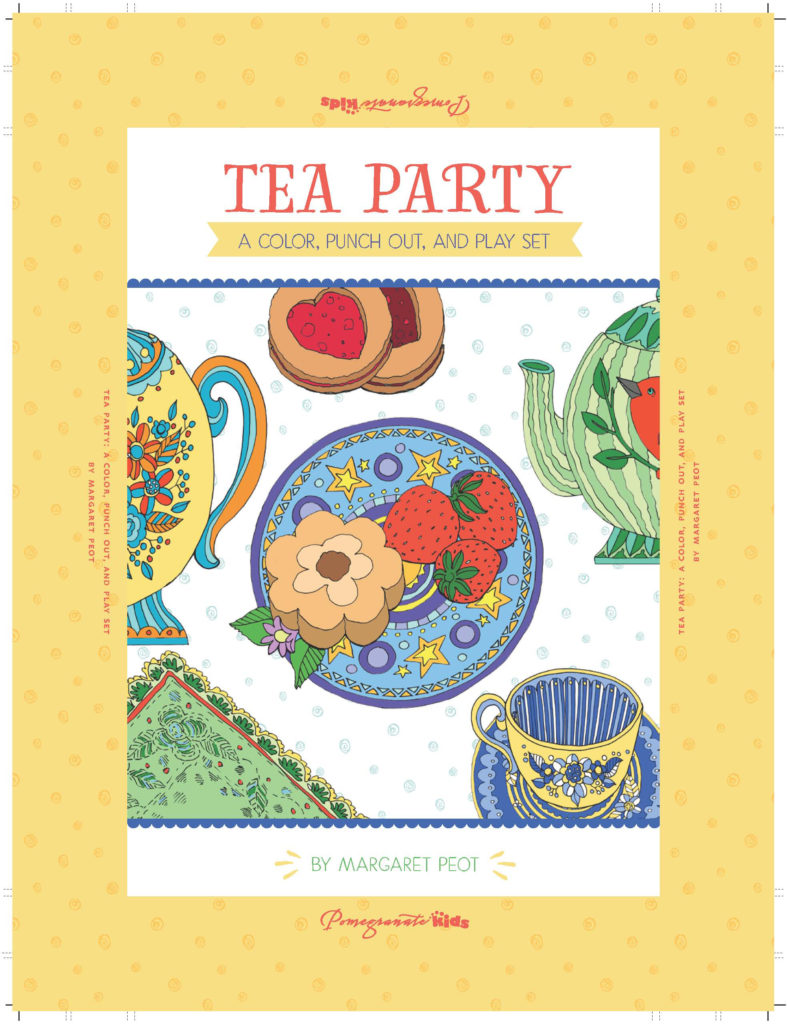 Tea and Teatime Treats:
Tea:
Consider having two teas, a caffeinated one such as Earl Grey, and an herbal tea that can hold up to added milk and sugar, such as rooibos. Sugar in cube or lump form is fun to have, plus a little pitcher of milk.
Treats:
The minimum for treats is scones with butter (or Devonshire Cream, a recipe for MOCK Devonshire Cream is below) and jam, and crustless savory sandwiches. But cookies, cupcakes (known as fairy cakes), bar cookies, even chocolates are nice extras, and fancy.
Scones (my tried and true recipe is in the Tea Party: Color, Punch Out and Play Set box! You can vary the recipe by adding cranberries and ginger, or chocolate chips, or dates and nutmeg, or dried blueberries-YUM)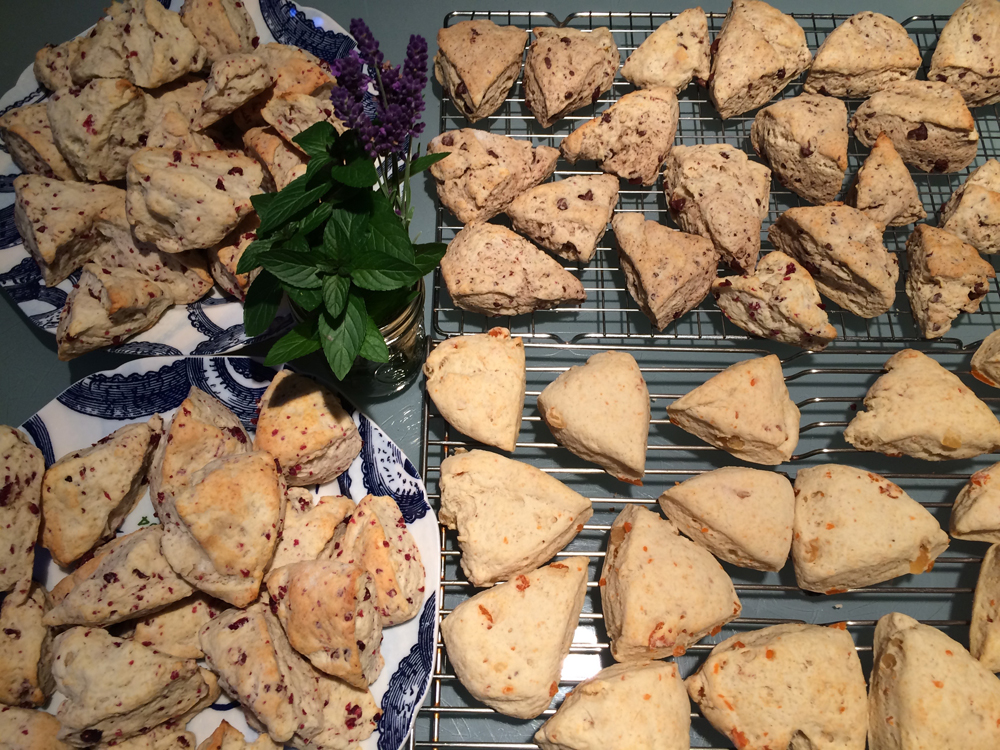 Devonshire Cream
You can buy the real thing on line, but you can make mock Devonshire cream: Whip an 8 oz. container of heavy whipping cream oil stiff. Add a small container of sour cream and a teaspoon of confectioners sugar. And voila–even my english friends ate this without harrumphing too much.
Jam
Tea sandwiches, such as cucumber and cream cheese, crustless, of course.
Finally, Favors:
It seems like birthday parties always require a goodie bag these days! If you are having a birthday tea party, this one is set up so that every participant will take away whatever portion of the Tea Party set they colored themselves. If you add a tea blending activity to the party, ( https://www.margaretpeot.com/2135/tea-party-more-t…as-and-downloads/), your guests can take home the tea sachets they blended. If you want to give an additional gift to each person, you could spend some time hunting for pretty mismatched teacups and saucers at yard sales or flea markets, and give each child a tea cup and saucer.
To buy a copy of TEA PARTY: A COLOR, PUNCH OUT AND PLAY SET from Pomegranate Publishing, click here. To buy a copy from Barnes and Noble, click here.