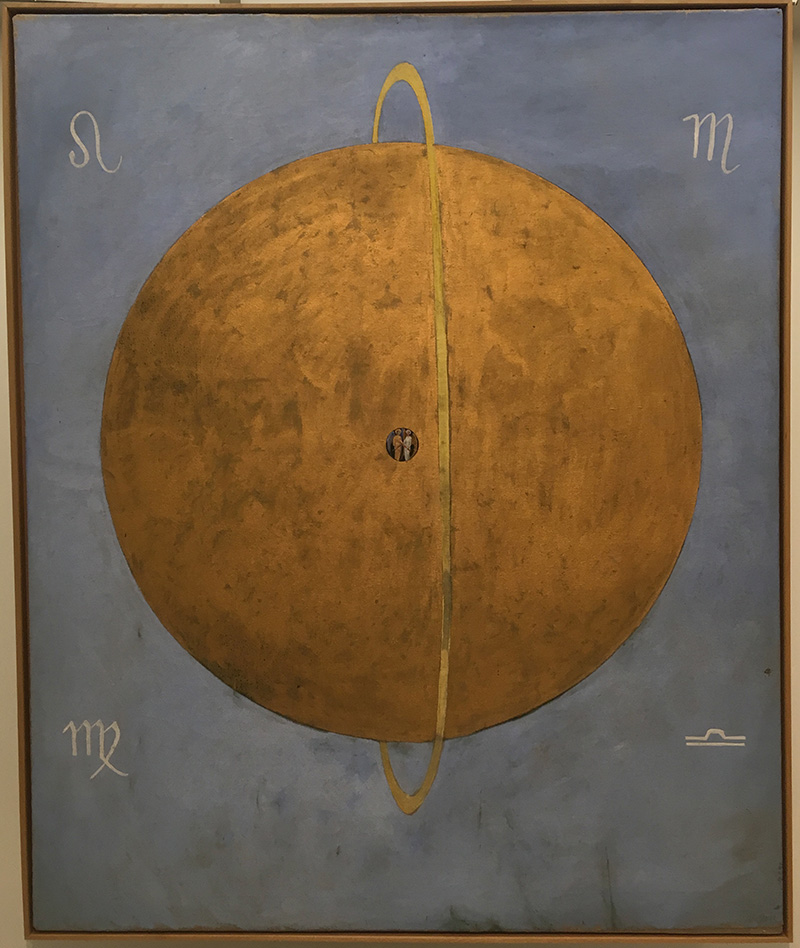 Monday I went to the Guggenheim to see the Hilma af Klint exhibition on view there til April. af Klint was a painter and spiritualist who was painting in the early 1900s, making these fantastic, resonant, vibrating abstractions long before Kandinsky and Malevich. That she was a woman is thrilling to me. And to call them abstract isn't quite right–they are not representational, but each painting, especially the mandala paintings and Group IV, The Ten Largest, have a weighty presence, almost like entities.
There's an excellent review of the exhibit in the Times, Roberta Smith says about The Ten Largest:
"These game-changing works envelop you in hues from dusty orange to pale pinks and lavenders, tumbling compositions of circles, spirals and pinwheels, and unfurling ribbonlike lines that sometimes form mysterious letters and words. The scale of the motifs and the paintings' sheer size (10 feet by nearly 9 feet) invite you to step in and float away to the music of the spheres. That they are rendered in tempera on paper, lighter than oil on canvas but still quite painterly, contributes to their levitating power. In their wit, ebullience, multiple references and palette, "The Ten Largest" seem utterly contemporary, made-yesterday fresh. But prepare for label shock: they were created in 1907."
I have included some pictures of those paintings in my last blog post Hilma af Klint at the Guggenheim, Part 1. But here I wanted to include some of the mandala paintings.
The last one, with the rainbow border, was the subject of a meditation at the Guggenheim. There was a spiritualist leading the encounter with the painting. Participants sat in front of the painting with their hands up to feel the energy coming off of the painting. The leader of the mediation encouraged participants to see beyond the painting with their senses, to feel into the painting, to go beyond the painting. It was interesting, though I didn't feel anything beyond what I could see, disappointingly. But one thing she said I thought was interesting: "Think of why you have encountered this painting on this day? What is it trying to say to you?"
The paintings are satisfyingly large, beautifully painted, elegant. This first one, with the reddish background–that red is the best thing–kind of reds and terra cottas vibrating there together