What a great time we all had making friends at the CROW MADE A FRIEND (Holiday House 2015!) publication party this past Sunday! What I wanted to do most of all to celebrate Crow, and makers everywhere, was to have a crafting party. There were seven tables of crafts, including crow paper dolls (or action figures) with natty crow clothes to color, nests to put clay crows and eggs in, articulated creatures to cut out and construct, rainbow scratchboard crows, and the Crow paper dolls that Holiday House so kindly provided. I wanted us to have some snacks to sustain us through our crafting, and some readings and song. And it happened just like that!
However, the party wouldn't have happened at all without the help of incredibly generous friends: George and Brittany for helping me decorate, Sue and Beverly for moral support and copious *Baked Goods* of extreme deliciousness, Sue, Beverly, Kristen, Gerry, Shannon and Sophie for helping at the crafting tables. Thanks to Daniel and Sam for setting up tables and chairs, and thanks to Brittany for manning the "bookstore" so capably and calmly. Thanks to Freddy for his wonderful readings, and to Jason for teaching the kids the myna bird song and hula, and for Sophie's confident ukelele accompaniment. Wow: I feel blessed ten times over.
Thank you to Marie Bardos for these wonderful photographs:
Jason Poole taught us all a song about a myna bird (a little smart, talkative blackbird–as close as we could get to a crow!):
Freddy Arsenault read wonderfully, and we hung on every word–even me, and I, of course, knew the story…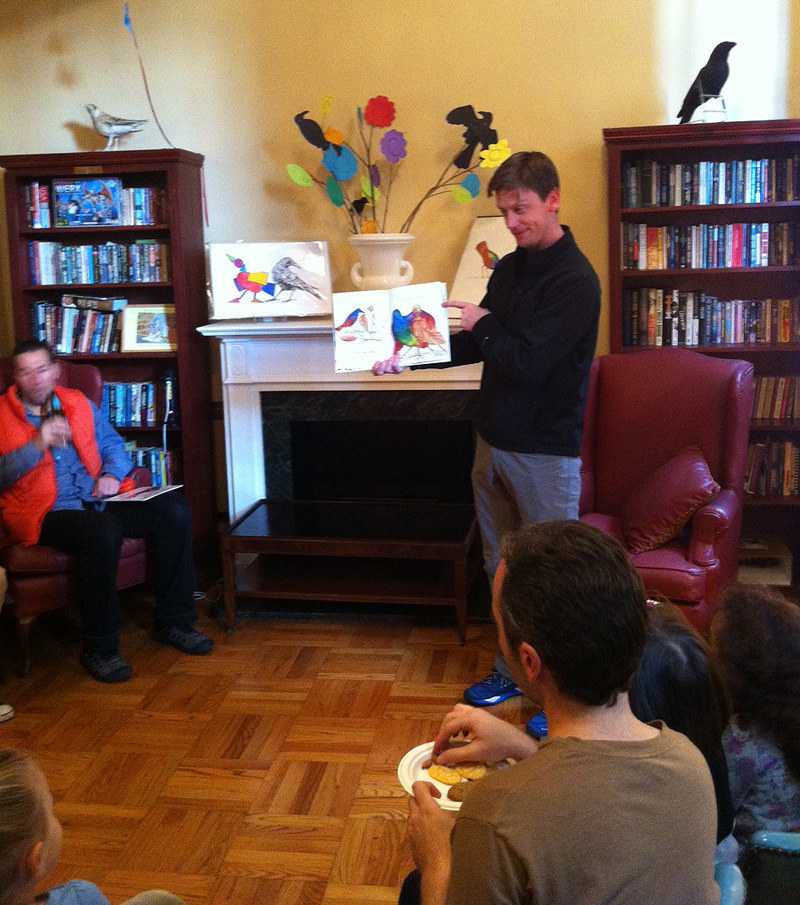 Brittany Mitchell was my calm and tech savvy bookseller:
There really were cupcakes–fabulous ones made by Sue and Sophie and Gracie, with crow decorations on top:
In the middle of all this fun, I did a powerpoint on the Origin Story of Crow Made a Friend, and drew a crow on Daniel's overhead projector. Stay tuned for Part 2 and Part 3 of the party posts–a video of me drawing Crow, and some craft how-tos should you want to do your own Crow Made a Friend Party!
This love note to my Crow party helpers wouldn't be complete without thanking everyone who cleaned up afterwards: Sue, Beverly, Brittany, Gerry, Freddy, Elizabeth, Daniel, Sam.