Quinn McDonald has written a lovely book in Inner Hero Creative Art Journal: Mixed Media Messages to Silence Your Inner Critic. With creative prompts, encouragement, new techniques and worksheets, you will get closer to having your inner critic step into a new role as Inner Hero. Leave a comment on this post, and be entered to win a signed copy of this new book by North Light Books! It is a lovely book, beautifully designed, that will be a helpful and supportive addition to your art bookshelf.
The book includes additional artwork and advice by Seth Apter of The Altered Page, quilter Diane Becka and ceramicist Liz Crain, and myself, among others. Thanks, Quinn, for inviting me to be a part of such a nice project!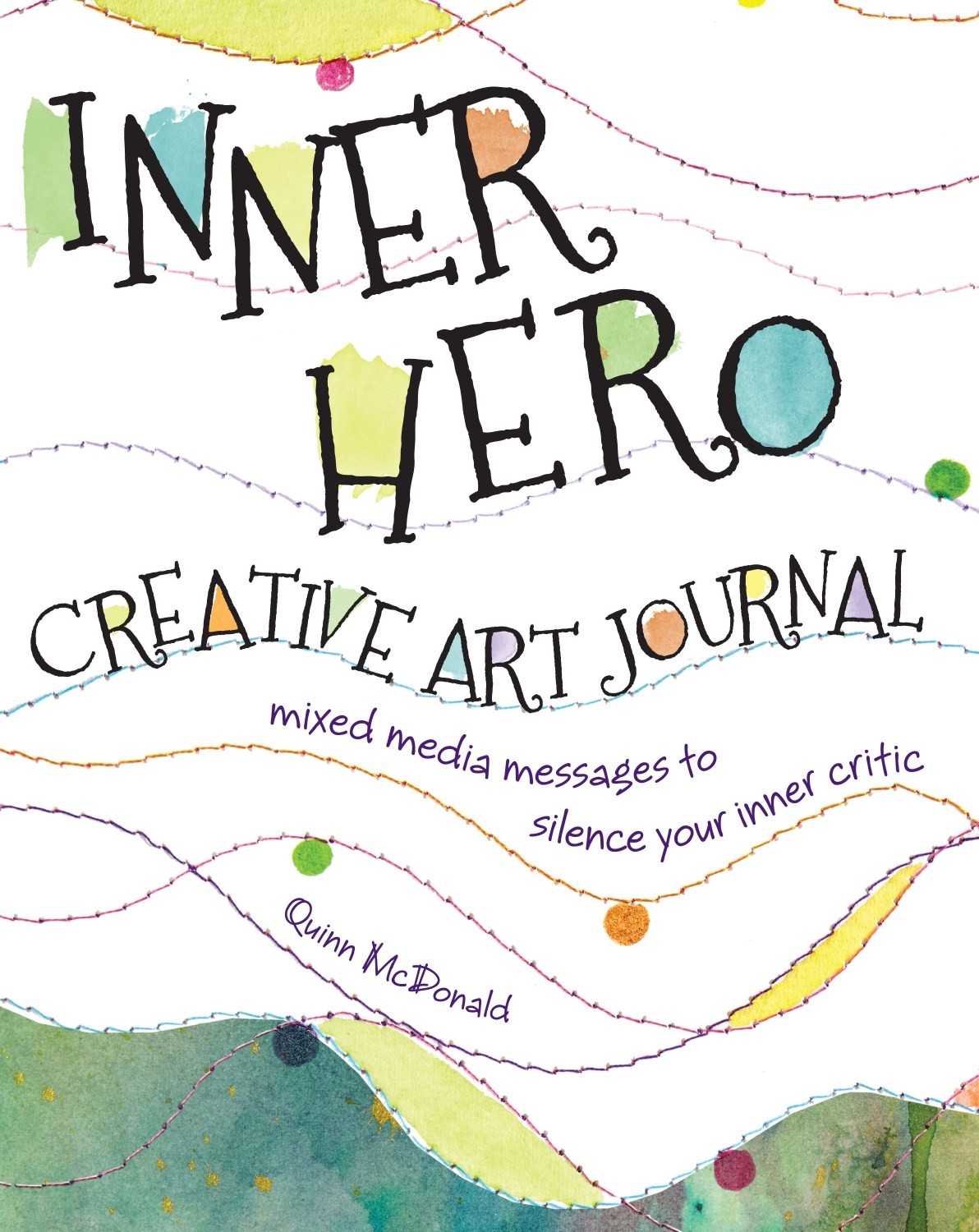 Reading this book has me revisiting the idea of the inner critic and what keeps us from our creative work. I find that procrastination is one of the things that keeps me from the studio. What IS that thing that finds us finding a hundred busy-work things to do, like sterilizing the cat's toys, or sorting the junk drawer, instead of getting set up to start or finish a new project in our studio? Especially when we like to work on our creative work best of all, and it is infinitely more rewarding that sorting the junk drawer?
Procrastination is the Inner Critic's fiendish friend.
Here are some tips for combating procrastination:
1. Leave the studio (or your designated creative space) with one obvious task undone–final brushstroke on a piece, a stack of prints to title and sign, a coat of varnish to put on a finished work. That way, when you enter your studio, there is a task to complete, and you won't spend time dithering about What to Do Next.
2. Hemingway tried to leave his writing when things were going well. This is a good idea for any kind of artist–leave your work when great ideas are still flowing and you are still having fun, so you can't WAIT to get back to your creative work.
3. Have more than one thing going at once in your studio, so that when you get to a waiting place–like waiting for glue or a glaze to dry–you have another thing you are working on or thinking about. This extra thing can be cutting paper to size (like cutting a stack of 5 x 7 pieces of paper to do the exercises in Quinn's book, for example!), gessoing a canvas, or can even be a wonderful art book that you have put aside for just this purpose–something to look at and be inspired and rejuvenated by.
4. Set time limits and take breaks. Work for a set periods of time, then allow yourself 15 minutes to have a cup of tea, read, walk out to get the mail and paper. Even if you are really cranking it out in your studio, these breaks refresh the mind and give you extra juice to keep going.
5. Do your creative work on a regular schedule. That way, when you get into your studio every day, your mind and body are accustomed to the routine, and ideas will flow more readily.
6. Build in days off. Days spent puttering, wandering through Chinatown or a museum, snoozing in the sun, walking, idly staring out the window–these idle times are essential for nurturing the creative spirit.
You don't have to do all of the above things, but I bet one of them rang a bell–do that one!
So–to win this signed copy of Quinn's new book, leave a comment on this blog post before March 13 (next Thursday), and all the commenters will be entered in a drawing to win. Good luck!