NEW!
Two new DVDs from Artists Network TV and North Light Books:
Alternative Art Journals with Margaret Peot and Alternative Art Cards with Margaret Peot: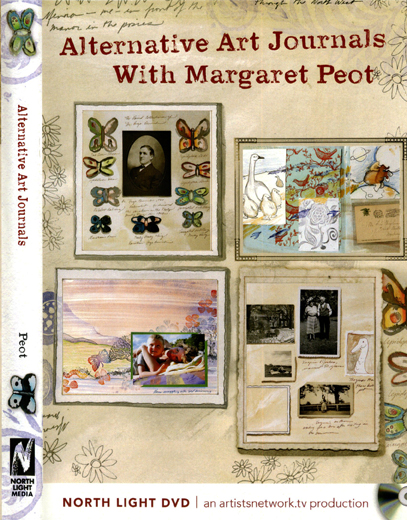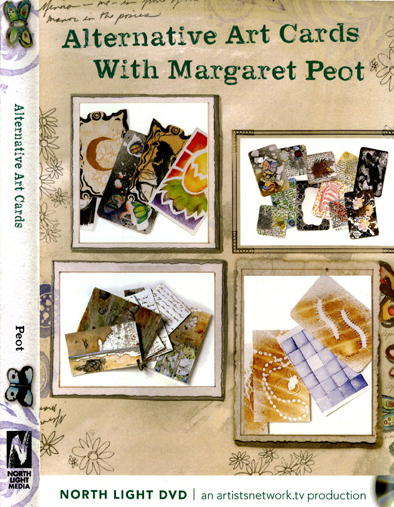 Alternative Art Journals with Margaret Peot consists of 59 minutes of personal workshop instruction, working step by step through three projects: Shoebox Weeks, The Fake Family Album, and Tag Journals. To purchase Alternative Art Journals with Margaret Peot, visit the North Light Shop:
Alternative Art Cards with Margaret Peot is 109 minutes os personal workshop instruction, working through the four seasons as you learn such techniques as stenciling, gouache resist, aging and stamp carving to make a portable card deck journal.  To purchase Alternative Art Cards with Margaret Peot, visit the North Light Shop: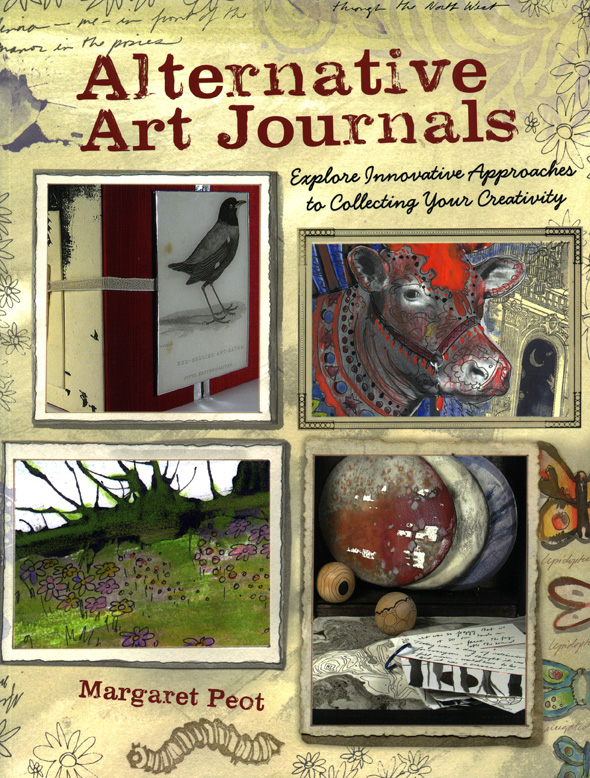 NORTH LIGHT BOOKS RELEASES IN SOFTCOVER
Alternative Art Journals
Explore Innovative Approaches to Collecting Your Creativity
By Margaret Peot
NEW YORK- Many of us have purchased a crisp new sketchbook, with some new art supplies and the best of intentions, only to put the book on the shelf, unopened. Maybe this is because we do not all create equally. Driven by the concept that we are all inspired in different ways, Alternative Art Journals shows how to create personal and unique journals, breaking free of the traditional sketchbook format to embrace formats customized to the individual.
This book is packed with fun projects that take the reader from innovative ways to approach that pristine traditional sketchbook they once bought to more unconventional art journal approaches, such as card set journals, scrolls, tag and charm journals–even a fake family album! Encouraging instructions, creative prompts, and step-by-step demonstrations (how to age paper, make a scroll, or make a simple box, to name three of the ten demos) will inspire the reader to discover the art journaling method that is best for him or her. A picture-filled gallery of ideas provides an additional springboard for creative ideas.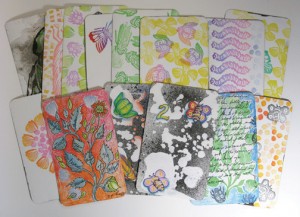 Card Set Journal, from Chapter 3, Alternative Art Journals
Beginners and more experienced artists will both take away loads of ideas from this book!
TO PURCHASE ALTERNATIVE ART JOURNALS, PLEASE VISIT:
Chapters Include:
Traditional Sketchbooks
Shoebox Weeks: Collections Art Journals
Card Set Journals
Landscape Art Journals
Correspondence Art Journals
Box Art Journals
Faux Family Album Art Journals
Tag and Charm Art Journals
Gallery of Ideas
All of Margaret Peot's books are about inspiring artists and non-artists alike to make and do freely and without fear. Her first book, Make Your Mark: Explore Your Creativity and Discover Your Inner Artist was on the 2004 Library Journal list of Best How-to Books, and her second book, Inkblot: Drip, Splat and Squish Your Way to Creativity (2010) was awarded a Eureka! Silver Medal for Non-Fiction, is an Orbis Pictus Recommended Book, and received a School Library Journal Starred Review. The Successful Artist's Career Guide: Finding Your Way in the Business of Art (2011), is for artists who are ready to take the next step and turn their art into a career.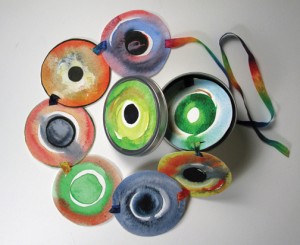 Eyeball Tin from Chapter 6, Alternative Art Journals
Alternative Art Journals is a Grown Up "Things to Make and Do"
Whether the reader uses a traditional sketchbook to record her ideas, one of the alternative structures in the book, or a combination of these, this book inspires the artist to find a system of recording ideas that best suits the individual. The techniques, lessons and demonstrations are intended to show that there are as many variations in the possibilities for art journals as there are artists to make them.
FOR RELEASE IN SOFTCOVER BY NORTH LIGHT BOOKS
SEPTEMBER 21, 2012
Alternative Art Journaling:
Explore innovative Approaches to Collecting Your Creativity
by Margaret Peot
ISBN 13: 978-1-4403-1064-5
ISBN 10: 1-4403-1064-5
Price: $24.99/ CAN $25.99
For more information, contact Margaret Peot:
www.margaretpeot.com www.theinkblotbook.com
646-228-5043