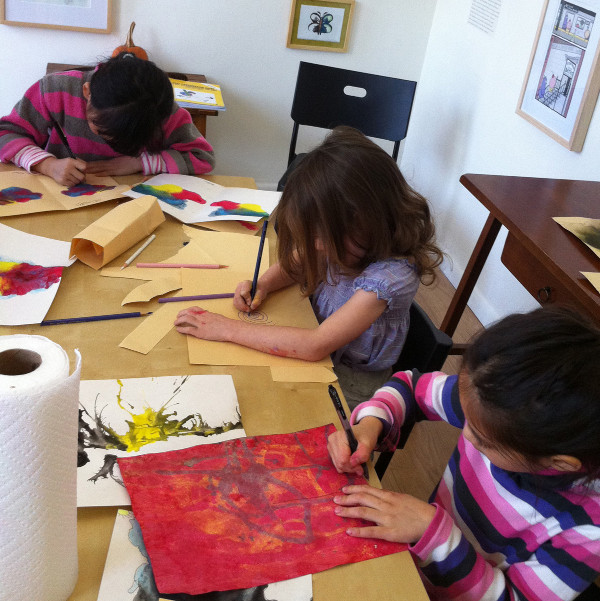 I teach a variety of workshops to a variety of ages and experience levels, in many different venues. I have taught children of all ages, as well as elders, individuals with stage 1 and 2 dementia, cancer survivors, health care providers, and art educators at both the NYS Face to Face and NCATA/UFT ArtWorks Art Conferences.
Programs:
MAKING FRIENDS
This workshop is inspired by lonely Crow making a stick friend and a snow friend in my early reader picture book CROW MADE A FRIEND. Participants will make various friends to take home, including a paper doll, a puppet and Found Object creatures.
(ages 3-9)
INKBLOT! Drip, Splat and Squish Your Way to Creativity
Participants will Drip, Splat and Squish ink (or washable tempera) to make inkblots, play looking and seeing games, draw into their blots. If the class is to be held in a library or another setting where neatness is of the essence, pre-made inkblots will be provided. This can be a one-time course, or an extended multiple- visit workshop, where participants make further art with their inkblots, such as masks, insects and flowers in specimen cases, theater characters and more.
(This class works well for any age group, from children to elders, parent and child groups, teachers and other professionals)
INTRODUCTION TO COSTUMING
I have been a costume painter for the theater for more than twenty years, so I have that much experience, and that many fabric scraps! Using basic figure outlines drawn for the purposes of this class by the late costume designer Frank Krenz, and a delicious treasure box of glittering materials, I introduce participants to the wonder and fun of costuming. After looking at photographs of costume designs, actual costumes, as well as costume painting samples, participants "build" a costume onto Frank's base drawing with scraps of fabric, mylar, sequins, lace, netting, glue, and colored pencils. From pretty dresses to super heroes and monsters, this catches the imaginations of boys and girls alike.
(Ages 10-14)
What others have said about Margaret's teaching:
"I was thrilled with the whole experience on Friday! You do such wonderful work, and I was so touched by how engrossed the kids were…I think they have so little experience with art because they don't get to explore it at home, or at school."
-Julie McGarvey at Operation Exodus
"Their observational skills have greatly improved since the beginning of the year, largely in part to these Inkblot studies. Transforming abstract blobs is challenging even for some adults, thus challenging our 4 and 5 year olds to do it really sparked their imagination and ability to appreciate subtle details. We can't thank you enough."
-Natasha Bassill, Aspirations School, Carlsbad, CA
"Working with Margaret year after year has made our training program better, stronger and definitely more fun than we ever imagined! Learning new techniques while having a blast is exactly the pedagogy we are aiming for…Margaret GETS IT!"
-Robin Glazer, Director, The Creative Center at University Settlement
Quotes from participants at the 2015 Creative Aging Training at The Creative Center:
"We needed that! Fun, energetic, beautiful- Margaret is terrific!"
"Good marriage of control and serendipity."
"FUN FUN FUN and FREEING! Inventive and open-ended, which is great for both kids and older adults instead of "pre-fab" projects!"