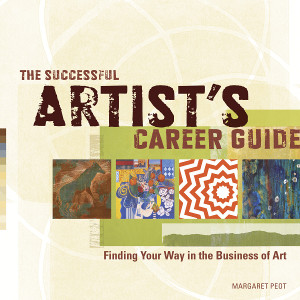 The Successful Artist's Career Guide:
Finding Your Way in the Business of Art
(F&W Media, 2012)
Art is one of the best parts of your life … are you ready to make it your living? Whether you are an art student, an aspiring artist or a longtime hobbyist, this book offers advice on ways to take that next step. Through artist interviews, personal stories, worksheets and  practical tips, this book will help you map out a personalized route toward the creative life of your dreams.
Chapters include:
1. What Do You Want to Do and Where Do You Want to Live?
2. What Will Be Your Expertise?
3. What is Your Art Worth?
5. Promoting Yourself
6. Interesting Art Jobs
7. Getting to Work
Each chapter will contain interviews from artists who make their living as artists, along with examples of their work.
"The Successful Artist's Career Guide: Finding Your Way in the Business of Art… is adamant that visual artists can lead healthy, financially stable lives. But, unlike other careers, it is a journey that requires personal tailoring — and introspection."
-Bruce Walsh for Metro news
"Flying in the face of the struggling artist stereotype, Margaret Peot delivers The Successful Artist's Career Guide…even during challenging economic times, Peot provides welcome proof that living the creative life remains possible."
-bigmouthlocal.com
Amazon:
Barnes and noble:
Indiebound